Does Venting an Attic Remove Moisture?

Converting attics into a semi-conditioned space in hot climates by closing soffits, gable and ridge vents is a positive design approach in reducing the moisture loads in houses and buildings. This can be achieved by moving the insulation from the floor of the attic to the underside of the roof deck. The usage of a high quality and low air permeable spray foam insulation, sprayed to the underside of the roof decks and sealing all vents, is an excellent approach in air leakage control. This design prevents the moisture laden air from the outside to enter into the attic and subsequently into the houses and building. In the state of Florida this design approach has been conducted for more than a decade and thousands of residential and commercial constructions have used the conditioned attic without any energy penalty when compared to the vented attics with air distribution ducts.

Test Your Attic IQ

Q: Air movement through a vented attic reduces cooling load.

A: FALSE: In vented attics radiant heat from the roof deck increases the attic temperature substantially.

Q: Venting attics removes moisture.

A: FALSE: In hot humid climates the best way to prevent moisture condensation is to prevent moisture altogether by sealing the attic from outside temperatures.

Q: Closed attics are more cost-effective and energy-efficient than vented attics.

A: TRUE: Closed attics are really the smarter choice!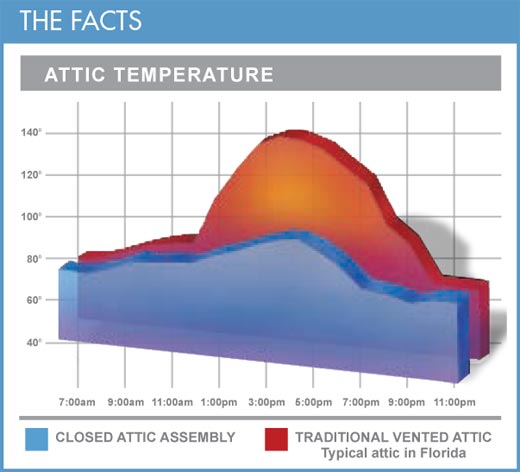 Now that you understand the problems of attic venting, call today for more info, or click here for a free estimate on our spray foam insulation services.
---
Spray foam attic insulation
By now, I hope we've proven our point and you can agree that a closed attic provides better insulation without causing added risk of humidity. In fact, the seal prevents any rise in humidity and adds the extra benefit of mold prevention.
We've been proudly insulating attics in and around Louisiana for over 20 years, in particular dealing with the following cities.
Baton Rouge
New Orleans
Lafayette
Hammond
St. Tammony